Last Updated on 27 June 2010 by gerry
In the Summer of 1982, I was 15 years old and on the verge of spending time away from home for the first time. Three weeks on an exchange trip to Germany was in the offing and Northern Ireland had qualified for the World Cup in Spain.
In the first group stage, they battled out a couple of draws against Honduras and Yugoslavia before facing the hosts Spain. Nobody gave them a chance, but it was a match they had to win and clearly it was a match they believed they could win, even with 10 men for most of the second half. I still get goosebumps watching this heroic performance which won them the group and qualification for the second phase of group games with Austria and France.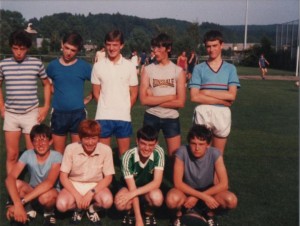 German wasn't a popular language subject at my school for some reason. However I really took to the language, thanks mostly to the enthusiasm of my teacher at that time, "Wee Jimmy" Fraser. Ultimately I would be the only person in my year to study German at A-level and there were only 2 in the year above me. In 1982, the three of us joined a group from other Co. Antrim schools and set off for our 3-week exchange trip in Biberach an der Riβ in Baden Würtemburg. It's fair to say that the Northern Ireland team's heroics in Spain allowed us to pack a generous amount of pride in our suitcases. The (West) Germans on the other hand had just conspired with Austria to play out a mutually convenient 1-0 result so that both teams would progress at the expense of Algeria.
There were 24 teams in the 1982 World Cup and the second phase consisted of 4 groups of 3 teams each. The winners of these groups would contest the semi-finals. Realistically we saw the two matches against Austria and France as a bonus, but the Norn Iron team continued to perform well, holding Austria to a 2-2 draw meaning a win against France would see us through to the semis.
We watched the France match together as a group somewhere in Biberach and our hopes of semi-final glory were quickly extinguished by the dazzling football of the French. I do remember Norman Whiteside was taken down on the edge of the area early on in what we thought was a credible penalty appeal. In the end, a consolation Gerry Armstrong goal kept our heads held high.
In a just and fair world, France should have at least made it to the finals in that World Cup, but they were defeated by West Germany on penalties in a semi-final, which will be remembered for the shameful foul committed by the German goalie Schumacher on Battiston. I recall watching this match with my German host family. During the Schumacher / Battiston incident, the awkward silence almost became visible.