Last Updated on 3 June 2011 by gerry
This morning I recalled that the National Archives in Dublin have made their census records for 1911 freely available online for counties Dublin, Kerry, Antrim and Down, so I thought I would seek out the returns made by my Co. Antrim ancestors. My entire paternal side all hail from Co. Antrim – but in terms of direct ancestors this translates into just two households as all my great-great-grandparents on that side are deceased by 1911.
I must congratulate those behind this project for the Census search interface is very responsive and easy to use. You can browse the records by drilling down through County » District Electoral Division (DED) » Townland, which will show a listing of all the households in a townland. There is plenty of room for improvement, however. A small gripe is that there is no interactive map interface when you browse, so some knowledge of place names and geography is required.
There also appears to be a major inconsistency about the use of spaces in names prefixed with O, Mac and Mc. This caused me some serious head-scratching when searching for my McGAREL ancestors. By browsing their townland I discovered that their names had been entered as Mc GARRELL – the variant wouldn't have hindered me, but I was completely thrown by the space.
To make matters worse, one can't search for names with spaces without enclosing the name in quotes. Here are the number of individuals returned for the following Co. Antrim searches:
McGAREL: 20
McGARRELL: 0
Mc GARRELL: 10260 (that's anything with either Mc or Garrell
"Mc GARRELL": 26 (including my relations)
"Mc GAREL": 0
My Co. Antrim pedigree, starting with my father on the left
John Gerard MULVENNA
b. 1931 Gowkstown, Glenarm
John MULVENNA
b. 1891 Gowkstown, Glenarm
d. 1963
Daniel MULVENNA
b. 1857 Deerpark, Glenarm
d. 1929
Patrick MULVENNA
b. 1822 Deerpark, Glenarm

d. 1878

Elizabeth GIBSON
b. 1826 Gowkstown, Glenarm
d. 1899
Catherine MATTHEWS
b. 1848 Campbelltown, Cairncastle
d. 1934
John MATTHEWS
b. 1805 Briarfield, Glenarm
d. 1869
Catherine MULVENNA
b. 1804
d. 1894
Agnes McGAREL
b. 1896 Deerpark, Glenarm
d. 1961
Arthur McGAREL
b. 1865
d. 1939
Arthur McGAREL
b. 1820 Ballyrickard, Raloo
d. 1910
mother unknown
Elizabeth MORROW
b. 1866 Kanestown, Glenarm
d. 1922
William John MORROW
b. 1828 Kanestown, Glenarm
d. 1892
Margaret ROBINSON
b. 1828 Kanestown, Glenarm
d. 1889
Constructing a HTML table (making extensive use of the rowspan attribute) to display a pedigree chart is quite a brain-teaser. I have Diana Gale Matthiesen's website to thank for helping get my head around it.
Looking at the pedigree above, I can see that by 1911 none of my great-great-grandparents are living, so the households of two sets of great-grandparents is what I'm looking for, namely: Daniel MULVENNA & Catherine MATTHEWS in the townland of Gowkstown, Glenarm and Arthur McGAREL & Elizabeth MORROW in the townland of Deerpark, Glenarm.
Daniel MULVENNA / Catherine MATTHEWS, Gowkstown, Glenarm, Co. Antrim
My great-grandfather was known as Dan O'Gowkstown – he and Catherine had 9 children (confirmed by searching the birth registration records many years ago). The full family group is shown in the table below.
| Name | Born | Died | Comment |
| --- | --- | --- | --- |
| Daniel MULVENNA | 1857 | 20 Apr 1929 | married Catherine MATTHEWS of Campbelltown, Cairncastle in 1876 |
| Catherine MATTHEWS | 1848 | 9 Aug 1934 | |
| Mary MULVENNA | 23 Feb 1878 | | married Arthur GIBSON of Libbert in 1906 |
| Charles MULVENNA | 29 Aug 1879 | 1942 | married Sarah GIBSON of Libbert in 1921 |
| Rosena Catherine MULVENNA | 17 Aug 1881 | | married Francis CAMPBELL of Deerpark |
| John MULVENNA | 26 May 1883 | 6 Mar 1885 | |
| Patrick MULVENNA | 31 Jan 1886 | June 1913 | Patrick was one of 8 people killed when the Canadian Pacific Express crashed while heavily loaded with emigrants near Ottawa, Canada in 1913 |
| Elizabeth MULVENNA | 18 Oct 1887 | 1958 | married Frank J SMITH and died in San Francisco |
| Martha MULVENNA | 21 Oct 1889 | | married William HAMILL and died in New York |
| John MULVENNA | 29 Oct 1891 | 1 Mar 1963 | married Agnes McGAREL of Deerpark in 1923 and remained on the family farm in Gowkstown |
| Maggie MULVENNA | 13 Oct 1894 | 22 Apr 1934 | married Neal McGAVOCK of Deerpark in 1912 |
Being economical with the years?
You can see by comparing the dates above with the census return below that nearly all the children's ages have been "compressed" by 2 years. Both the parents in the household are reported to be 56 on 2 April 1911. Daniel was actually 54 and Catherine was probably 63. Nearly all the children are 2 years older than reported on the census – e.g. John and Maggie were actually 19 and 16 respectively as opposed to 17 and 15 recorded on the census. Daniel and Catherine were married on 22 September 1876 but the census reports they have been married 32 years.
I researched the tragic 1913 rail crash in Canada, where Patrick was killed and the Irish News gives his age as 25, although he would have actually been 27. Curious.
Update: talk of pension affecting 1911 census ages?
Hugh Hamilton makes the point in the comments that talk of a new government pension scheme is thought to have motivated some people to inflate their ages on the 1911 census. I've gone back to check their entry on the 1901 census to check out this theory. In nearly all the cases, younger ages have been recorded, usually by about 2 years. I reckon the most likely reason is that Daniel based the ages on his eldest being born when he was 21 and worked his way back from that point. Children still of school age generally have their age recorded accurately.
Name
1901 ages
1911 ages
Census
Actual
Census
Actual
Daniel
46
44
56
54
Catherine
46
53
56
63
Mary
21
23
291
33
Charles
19
21
n/a2
31
Rosena
17
19
263
29
Patrick
15
15
23
25
Elizabeth
13
13
21
23
Martha
11
11
19
21
John
9
9
17
19
Maggie
6
6
15
16
1In 1911, Mary was married to Arthur Gibson and living in the Libbert.
2In 1911, Rosena was married to Frank Campbell and living in Deerpark.
3Charles Mulvenna couldn't be located on the Irish 1911 census. According to my uncle Anthony, Charles made money in America. He married Sarah Gibson of the Libbert in 1921.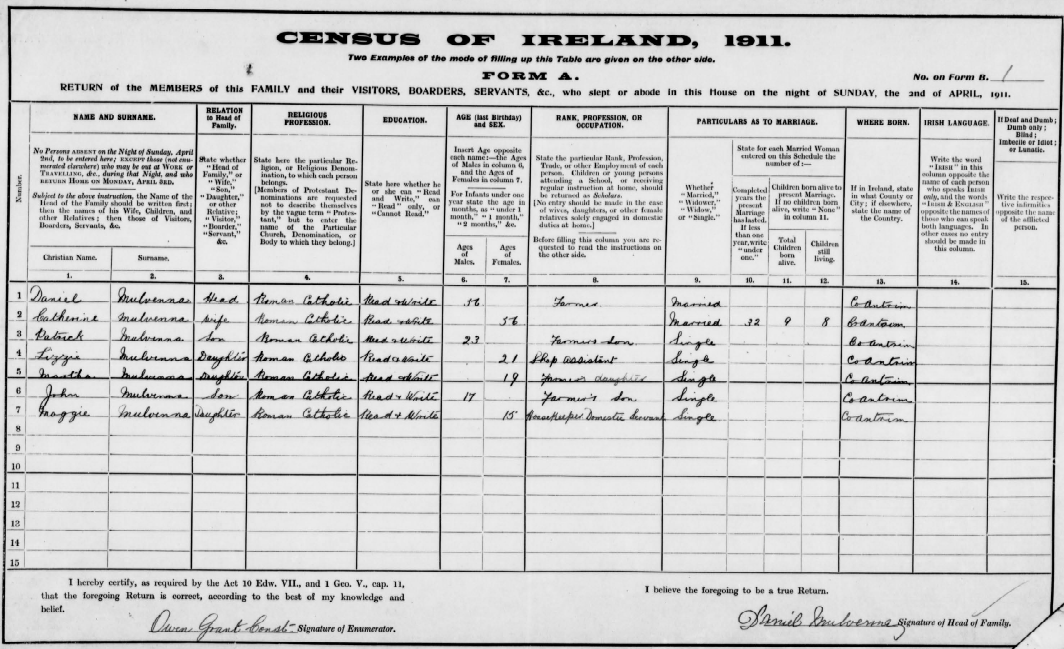 Arthur McGarel / Elizabeth Morrow, Deerpark, Glenarm, Co. Antrim
| Name | Born | Died | Comment |
| --- | --- | --- | --- |
| Arthur McGAREL | 1865 | 30 Jan 1939 | married Elizabeth MORROW of Kanestown, Glenarm in 1886 |
| Elizabeth MORROW | 8 Sep 1866 | 6 Jun 1922 | |
| Maggie McGAREL | 25 Dec 1886 | | |
| Jane McGAREL | 10 Jan 1889 | | married Charles MULVENNA of Deerpark in 1914 |
| Arthur McGAREL | 19 May 1891 | 11 Apr 1967 | married Margaret MULVENNA of Deerpark |
| David McGAREL | 30 Jan 1894 | | |
| Agnes McGAREL | 6 Jul 1896 | 8 Sep 1961 | married John MULVENNA of Gowkstown in 1923 |
| John Joseph McGAREL | 18 May 1899 | | married Kate McKILLOP in 1927 |
| Owen McGAREL | 4 Nov 1901 | | |
| Samuel McGAREL | 20 Jan 1904 | | |
| Elizabeth McGAREL | 14 Nov 1906 | | married Mick FORSYTHE in 1927 |