Last Updated on 3 December 2009 by gerry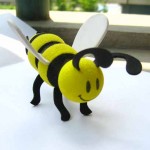 Over the last couple of weeks I have been the victim of an attempted Overpayment cheque scam. In such a scam a person or business enters into an agreement to purchase an expensive item or product you are selling, usually on the internet. They will send a cheque to your bank that vastly exceeds the amount agreed. The cheque is a forgery, but before it clears the fraudster will engage you in some long-winded explanation about how an overpayment was made and how you can refund most of the balance, usually keeping a tidy amount for yourself.
According to Hoax Slayer, such scams usually target "high-ticket" items like cars and electronic goods. In my case I was contacted by someone in Dubai, purrporting to be: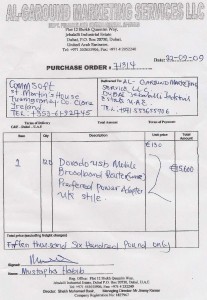 Mustapha Habib
AL Garound Marketing Services
Plot 12 Shekh Quassim Way
Jebelalli Industrial Estate,
P.O.Box 14053
Dubai UAE .
Email: moozety101@yahoo.com
who wanted to purchase 120 Dovado USB Mobile Broadband Routers from me. From the outset my suspicion antennae were twitching for all of the following reasons:
he was using a Yahoo email address
he showed no interest in technical details about the product
from an early stage he was eager to get hold of my bank details including telephone number and address
he did not engage in any haggling over the price, quite the opposite in fact giving the impression he was prepared to pay over the odds for a large quantity
the manufacturer of the product is actually registered in Dubai – why deal with me instead of dealing with Dovado directly?
he told me he would be able to organise the shipping, which made the deal all the easier to conclude
Indeed although I quoted him a unit price of €75 per router, he sent a purchase order citing a unit price of €130. Nonetheless I invoiced him for €9,000 (120 routers at €75 each). On 28 September 2009, a postbank cheque for €55,500 arrived at our bank in Ennis.
As they say: "if something seems too good to be true, then it probably is", so I googled Overpayment Cheque Scam and discovered that the above sequence of events fitted perfectly with the usual overpayment scam scenario.

Furthermore my contact in Dovado shared a useful anti-scam resource with me: http://whocallsme.com – it's a site where users can log details and telephone numbers from attempted scams and dodgy telephone marketing practices.
When I enter the phone number from the fraudulent purchase order (+971 553655906) into this website there are reports of almost identical scams originating from that number.
As soon as I sussed that the whole affair was a scam I ceased responding to emails from the fraudster and I have forwarded all the salient details to the Dubai police…without any response from them as yet, I might add. As is routine procedure with such large cheques, the forgery was inspected by the bank's fraud department, confirmed as a dud cheque and returned unpaid. At this stage I will not find out what tall tale was in store for me at the end of the scam, but I don't care. I just wanted to document the experience to alert others.
Update 18 Oct 2009
The Dubai Police did respond and have said that they'll take the "necessary action".
Update 3 Dec 2009
Many thanks for all the comments posted so far. Given the steady stream of reports of attempted fraud from the same source and the fact that the fraudster(s) have a physical presence in the countries they are targeting, I passed on the details of this particular fraud to the UK's National Fraud Authority by telephone (0300 123 2040). Eventually some arm of the law might take an interest in apprehending some of the individuals involved. Maybe. There's a slight chance.