Last Updated on 8 May 2023 by gerry
On our recent visit to the Crown and Anchor Bar in Malgrat, we'd heard about a monument recently erected to commemorate the international brigadistas who died just off the shore when the Ciudad de Barcelona ship carrying them was sunk by an Italian submarine on 30 May 1937. We must have walked right past this monument on at least one occasion before, so today we set off along the beach front to have a good look at it.
A bit of research beforehand informed us that where they have built the monument has been named "Solidarity Park" and is the focus of the annual commemoration festival. A trilogy of CDs by Brigada Intergeneracional in the colours of the second Spanish Republic: red, yellow and purple. The third and final CD of the trilogy, the purple CD has an ongoing crowdfunder to raise the money to release it in time for this year's festival, which takes place here on 2-3 June 2023.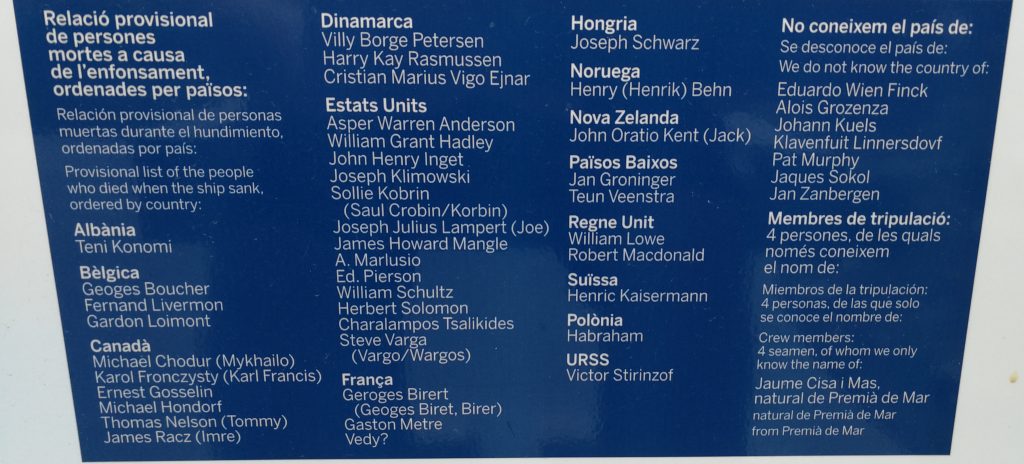 We found the small Solidarity Park on the promenade just about level with Malgrat de Mar train station. We took a moment to read the information board, which explains what happened and lists the names of those who died in the sinking of the Ciudad de Barcelona. There is a sculpted stone bench with room for one person to reach the information and a very striking large stone sculpture of the ship.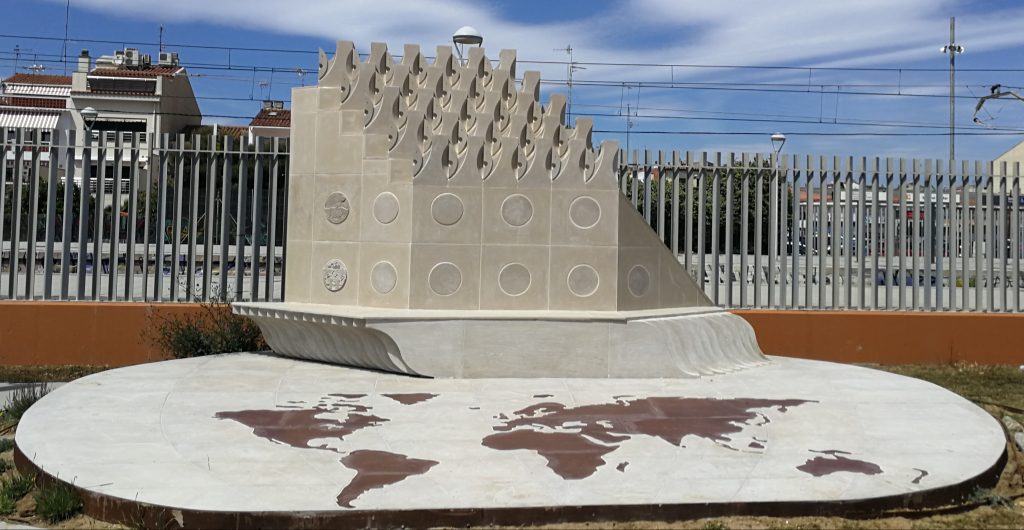 In the evening we decided to go have a drink in a couple of the neighbouring hotels. Our immediate neighbour to the south is the Don Angel hotel, which seems to have either a live band playing every night or very lively music playing. We've got used to the noise pollution and at least it does stop at 8pm, but it was time to investigate what exactly goes on there every night. As non-residents we were quite welcome to buy some drinks and enjoy the poolside entertainment which turned out to be dance class of some sort.
Our stop was to check out the rooftop terrace of the Atzavara Hotel, which according its website is also open and welcoming to non-residents. It was a fantastic place for an evening drink at the sun went down. We had the large hotel rooftop space all to ourselves. There is a pool and lots of sofas and beanbag style loungers with an outdoor bar and inside is the Bamboo restaurant which carries the name of a Michelin chef.