Last Updated on 10 March 2023 by gerry
It is our first Tuesday in Maresme and the plan is to take the train to the northernmost town (Malgrat de Mar) in this long narrow coastal county and possibly walk back south along the beaches through the two neighbouring towns, Santa Susanna and Pineda de Mar. It's looking like a gorgeous day here, so we'll play it by ear to see how we manage.
Malgrat de Mar is one of the bigger Maresme towns and we take our time exploring on foot, making it up to higher ground to take in the views and enjoy the interior of the town. It appears to be a place with two very distinct sides, an old town with its people going about their daily business and a tourist strip along the coastal road, railway and beach which is currently like a ghost town just now with the many high-rise hotels and swimming pools closed awaiting the return of high season. Most have quite a run-down appearance.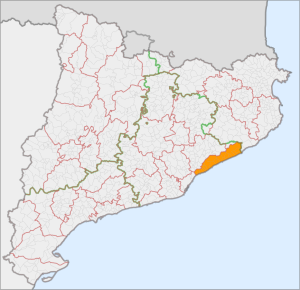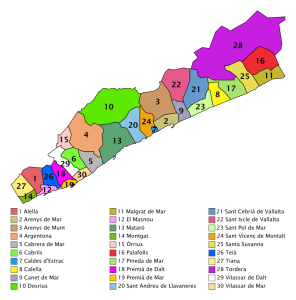 Up on the high ground we encounter a beautiful mural (pictured above) by Núria Riba featuring an old wedding scene with the caption: The neighbourhood is like a mixed stew. Down nearer sea-level there is a space between streets dedicated to a woman called Neus Català who was an anti-fascist politician in Catalonia during the civil war and then a survivor of a Nazi concentration camp. Dominating this space is another mural by Núria Riba depicting woman including Neus Català at the Ravensbrück concentration camp.

We picnicked on the beach before setting off on our marathon walk across three municipalities. The weather had taken a wee turn and we were facing into a nippy gale as we started walking, but by the time we reach Santa Susanna the sun had come out and it was gorgeous again. Santa Susanna was an instant contrast to Malgrat as the high-rise hotels gave way to a campsite right on the beach which was actually open and thriving with the latest top-of-the-range camper vans from Belgium, Germany and the UK it seemed. This campsite also had quite a selection of wooden cabins and other type of prefab chalets. With a fair number of holiday makers here, the campsite bar and restaurant was very pleasant and full of atmosphere.
This lengthy stretch of beach, Malgrat to Pineda, is pretty amazing – we barely me a soul and enjoyed a well-earned lie down on the sand before we did indeed conclude our excursion by making it to the Pineda de Mar train station. All told for the day, it was about a 9-mile hike.