Last Updated on 14 March 2023 by gerry
We both have birthdays in March, so we've been looking forward to celebrating these special days here at our home from home in Catalonia. Here are a few of the important elements that made up birthday no. 1.
A morning swim
We decided to treat ourselves with a taxi to the Balneari Titus spa, which is just a couple of kilometres down the road. However it was easier said than done as there were no taxis at the rank by the railway station. The taxi rank had a QR code for an app, so we bit the bullet, installed the app, jumped through the registration hoops, made an attempt to book a taxi and crossed our fingers. Thankfully the taxi app worked very well and the driver gave us a call to check out destination and I was able to converse enough to bring that to a good conclusion. Phone calls in a foreign language when you are just learning seem more challenging than a face to face conversation. Soon the taxi was there across the road and we ended up only a couple of minutes late for our swim.
A nice meal at La Tasqueta
After the swim we decided we weren't that far from Arenys de Mar, so heading back home on foot would be nice. It was another relative scorcher and the beaches all along our route home were busier than we've seen up to this point. We even saw a few people in the water. The beach nearest Caldes d'Estrac is known as La Musclera and is a naturist beach apparently.
After a quick change and shower turnaround at home we went out for some lunch before the rugby match at 4pm Catalan time. The good weather had brought lunchtime diners out in force all down the main street and along the part of the town closest to the sea. I've called it the waterfront before, but that's a bit of a stretch as there is a main road and a railway line between it and the sea. All the restaurants were busy but we found a table at La Tasqueta and had a very pleasant lunch and beer.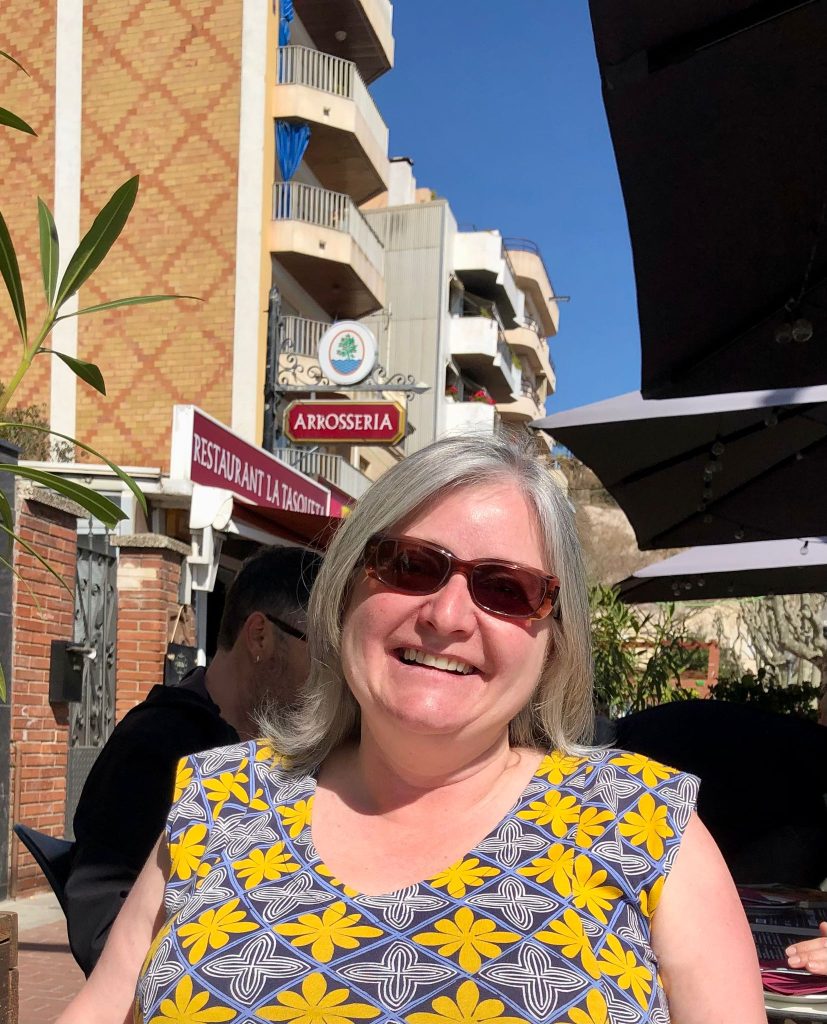 Scotland v Ireland rugby in the sports bar
A few days before, we had checked at the sports bar a few doors up the hill from our flat that they would be showing the Scotland v Ireland rugby match. A fitting centrepiece to the birthday activity today. The bar wasn't too busy and the staff were very accommodating finding the right channel for us and putting the sound up as loud as it would go. The commentary was in Spanish but it added to the excitement. The first half was a fantastic contest – the second half was more one-sided with Ireland scoring a couple of converted tries, whilst leaving Scotland scoreless. A slight disappointment for the birthday girl.
Cake and flowers
I'd spent a bit of time figuring out where best to get hold of a nice bouquet of flowers and cake. There are lots of pastisseries (cake-shops) and paneries (bakeries) here and they all open nice and early on Sunday morning, some at 9am, some at 8am and one even at 7.30am. The only florist I knew (Art Floral) would be closed on Sunday and only open for the morning on Saturday. Buying the flowers was one thing, but I needed a vase for them too and this resulted in me wandering the streets for a while carrying the bouquet of flowers. I must have been stopped 3 or 4 times to be told how nice the flowers were. Finding a vase turned out to be quite a challenge and gave me plenty of opportunity for conversation practice in shops. After three attempts I found what I needed.
On Sunday I was up and out quietly at 8am to see what the local cake shop had and was pleased with the individual cakes I was able to get. I think I managed to get back in without even being missed.