Last Updated on 9 November 2013 by gerry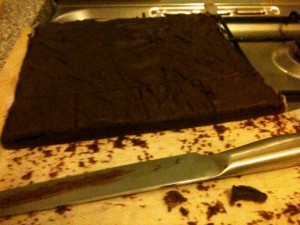 I went along to my first meetup of the Edinburgh Cinema group and Elise the facilitator had generously baked a chocolate cake for everyone. This was my first knowing encounter with ganache as an icing alternative and I was pointed towards Beatty's Chocolate Cake for the recipe of the deliciously moist cake.
Inspired by this, I fancied adapting this into a vegan tray-bake and my first attempt turned out no' too bad.

Chocolate Cake Ingredients
1.75 cups self-raising white plain flour
½ cup of cocoa powder
1 cup of sugar
1 tsp of salt
2 tsp rice flour
1 cup of soya milk
½ cups of sunflower oil
1 tsp of vanilla extract
1 cup of freshly made hot chocolate
2 tbsp of maple syrup
Cake Method
Preheat oven to 350F/180C
Line a shallow roasting tray with grease-proof paper, 40cm x 27cm (2cm deep) worked well for me
Sieve together flour, salt, sugar, cocoa powder in mixing bowl and mix thoroughly
Make the cup of hot chocolate (i.e. heat 1 cup of soya milk and add to a heaped teaspoon of cocoa powder). Mix in the maple syrup.
In a jug, whisk together the oil, soya milk, rice flour and vanilla essence
Gradually pour this mixture into the dry ingredients, beating well all the time and finally add the hot chocolate and continue to beat well until smooth
Pour mixture on top of grease-proof paper in baking tray.
Bake in oven for 30-35 minutes or until a skewer comes out dry
Chocolate Ganache Ingredients
120g of vegan cooking chocolate
¼ cup of soya cream
2 tsp sugar
Ganache Method
Let the tray-bake cool for 30-60mins
Add the chocolate (broken up in small squares), cream and sugar to a glass or ceramic bowl over a saucepan of boiling water
Stir gently until all melted and smooth
Use a spoon to apply the ganache to cover the tray bake.
As the topping cools it will harden
Lift the tray bake out of baking tray onto large chopping board/surface and slice into small mouthfuls of heaven.