Last Updated on 11 September 2012 by gerry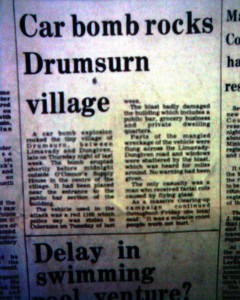 On Thursday 26 July 1973, loyalists exploded a car bomb outside my uncle's pub in the small village of Drumsurn, Co. Derry. Although I was only six, I remember it quite well as we were visiting at the time. I was staying the night upstairs above the pub with 3 of my siblings and half a dozen or more cousins. Luckily there were no serious casualties.
Recently I was curious to find out the exact timing and circumstances of the bomb attack and had a look through the newspapers of the time at Belfast Central Library. I could find no coverage of the blast in any of the Belfast or Derry City newspapers – a car bomb in a rural village inflicting relatively minor injury and damage obviously struggled to compete for column inches with all the other stuff going on in the summer of 1973.
One of the more local newspapers, The (Coleraine) Chronicle, did report the story in its Saturday 28 July 1973 edition. It read as follows:


Car bomb rocks Drumsurn village

A car bomb explosion rocked the tiny village of Drumsurn between Limavady and Dungiven late on Thursday night of last week. The bomb erupted shortly before midnight outside O'Connor's Supply House in the centre of the village. It had been placed near the entrance to the public bar section of the building.

The vehicle used in the attack was a red 1100 which police say was stolen in Coleraine on Tuesday of last week.

The blast badly damaged the building which includes a public bar, grocery business and private dwelling quarters.

Parts of the mangled wreckage of the vehicle were flung across the Limavady-Dungiven road and windows were shattered by the blast, which was heard for miles around. No warning had been given.

The only casualty was a man who received facial cuts caused by flying glass.

As a massive clearing-up campaign continued throughout Friday one local said "It was a miracle more people were not hurt."
The Northern Ireland Assembly Bill became law in May 1973 and the elections to the new assembly took place on 28 June 1973. My understanding is that this bomb attack was an early part of the loyalist campaign against this new institution. I believe the bomber was caught and successfully convicted.
The power-sharing executive of the assembly was later to collapse in the face of the Ulster Workers' Council strike of May 1974.
The story is told that serious casualties were probably avoided by the tradition the regulars of the bar had of parking their cars as close as possible to the pub entrance.