Last Updated on 7 October 2012 by gerry
I'm an Irishman from Belfast currently living in Scotland. I have to admit that I've never really understood what exactly being British means, but there are probably half a million people in Ireland, for whom that is the national identity they feel most comfortable with.
On this day 100 years ago, half a million people lined up across the north of Ireland and beyond to sign the Ulster Covenant. A little dig around my family history reveals a mixture of catholic and presbyterian ancestry, so some of those covenanters were family of mine. I had a look at the PRONI archive to see how many I could spot.


1. Joseph Perry (1861-1954), my great-great uncle
The Perrys were a presbyterian family living in the townland of Maine, near Drumsurn, Co. Derry. Joseph's sister, Mary Elizabeth Perry, married my great-grandfather James O'Connor and converted to catholicism in 1903.


2. Isabella McCully (née Perry, b. 1870), my great-great aunt
Isabella was Joseph's sister. Note that women signed a Declaration rather than covenant with a shorter wording.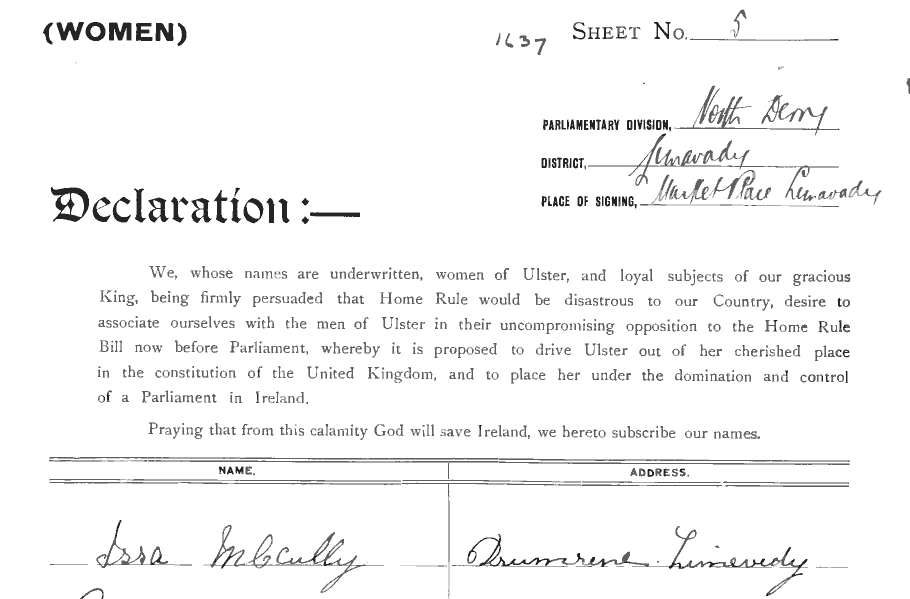 3. William James McCully, my first cousin, thrice removed
William was Isabella's husband; he was also her first cousin.


4. Joseph Perry McCully, another first cousin, thrice removed
Joseph was William's brother.


5. Joseph Perry Boyd (b. 1872), also my first cousin, thrice removed
Joseph was a cousin of the McCullys through the Perrys. His mother, Elizabeth Perry, married William Boyd of Terrydoo in 1869.


6. William Boyd (b. 1870), another first cousin, thrice removed

At first it was hard to tell if this was Joseph's brother or his father William Boyd who was still alive at the time of the 1911 census. Unfortunately the father William Boyd left the signature blank on the census form in 1911, but looking at his signature on the 1901 census suggests that it was his son William who signed the covenant.


7. Rachel Boyd (b. 1876), another of my Boyd first cousins, thrice removed
At least one of Joseph and William's 3 sisters, Rachel Anne, also signed the Declaration. I'm guessing that PRONI transcribed the signatories from the original documents as the scan on this page is almost unreadably faint.


8. Minnie Cowan (1888-1970), my first cousin, twice removed


The name "Minnie" was quite popular in the north of Ireland in this period. I always thought it was a short pet name for Mary as my mother recalls that her grandmother Mary Elizabeth Perry was known as Minnie Perry. However this Minnie Cowan was registered at birth as Minnie Letitia McFadden. Her unmarried parents were John Cowan Perry and Eliza Jane McFadden. Aged 6 years, however, she is listed in Drumsurn National School register (19 June 1894) as Minnie Cowan, daughter of a Presbyterian farmer living in the Maine. On the 1901 census, Minnie is living with the Irwins in the Maine, her relationship to the head of household is given as granddaughter. On the 1911 census, Minnie is listed at the same household, this time as a niece to the head of household Henry Irwin. By 1930, Minnie was living in Pennsylvania where she married William Mullen.