Last Updated on 21 July 2010 by gerry
In celebration of the Antrim senior hurlers qualifying for the All-Ireland hurling quarter-finals this year, I'm going to post a couple of match reports from the Summer of 1949. At that time my Dad was seventeen going on eighteen and was selected to represent Antrim on the minor hurling panel. The scorelines from these two matches go a long way to illustrate the gulfs above and below Antrim in the inter-county hurling pecking order.
In Ulster hurling, Antrim are generally untouchable, albeit with Down and Derry making great strides in recent years to get near them. However it is nearly always a struggle for Antrim to challenge the traditionally strong hurling counties like Kilkenny, Cork, Tipperary, Waterford, Galway, Clare and Limerick. In 1949 Antrim met Donegal in the Ulster Minor Hurling Final and won with an excruciatingly one-sided scoreline of 13-6 to 1-1. Three weeks later in Croke Park, however, the triumphant Ulster champions would meet a similar fate in the semi-final against Tipperary losing 9-7 to 0-2.
My Dad grew up in Glenarm, Co. Antrim, where hurling is the main sport for young gaels. However for his secondary education he was sent up to Belfast to be a boarder in St. Malachy's College, where Gaelic Football would be the primary sport. Dad recounts that he lived for playing both football and hurling throughout his school days and clearly he was very talented in both codes as he went on to represent his county as a senior footballer.

In my own case, I found that hurling was the only sport I appeared to have any natural talent for. Maybe these things really do have a genetic element or maybe I was just a lonely fecker as a child, who spent every spare moment on my own outside with a hurl in hand knocking a ball up against a wall. I captained the hurling team at primary school and at St. Malachy's up until I was 14. At that point Mr. Crummy departed the school. He was the only teacher with an interest in training a school hurling team and so we were disbanded.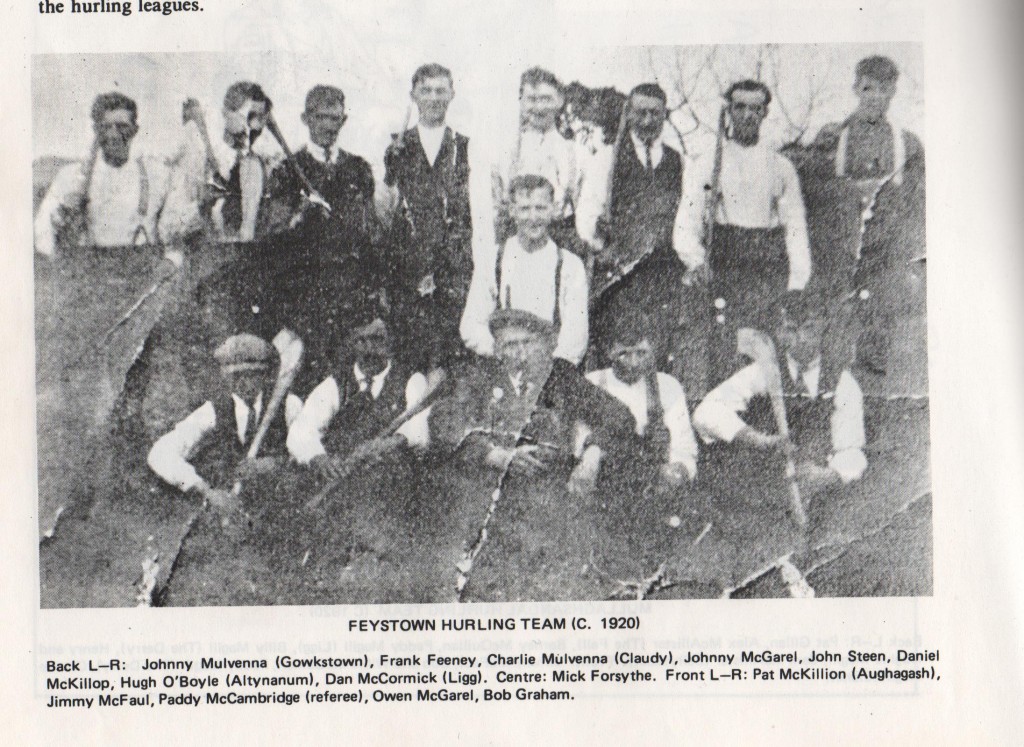 I've carried this regretful feeling with me since then that I didn't fulfil my potential as a hurler. For a long time, to be honest, I've felt resentful that my Dad didn't take an interest at that point and ensure I got involved with a club team. Recently, however, I've had words with myself, saying: "Look, if hurling was so important to you, at 14 you were a big enough fella to take the initiative yourself. Just let it go, for goodness sake."

There's an old crumpled up photo featuring my grandfather, Johnny Mulvenna, as part of a Feystown hurling team (c. 1920) in a book about St. Joseph's GAC, Glenarm by local historian Felix McKillop. If you have ever seen the film, The Wind That Shakes The Barley, you'd have to admit that this photo is very evocative of the hurling match in the opening scene from that film, despite the fact that counties Cork and Antrim are at different ends of the island.
Antrim Retains Ulster Minor Hurling Title
Irish News, 25 July 1949
Antrim 13-6 Donegal 1-1
Antrim had little or no difficulty retaining their Ulster Provincial Minor Hurling Championship title against Donegal. The visitors, however, proved very game throughout, but were out-classed at all stages. Antrim had a first-class goalie in Dessy O'Neill, whose few clearances were confidently and brilliantly executed. He received ample cover from Elliott, Butler and Morgan in defence. Mulvenna and Gallagher operated to great effect at midfield, the Glenarm representative proving a very keen and interprising [sic] support to his attack, of which Walsh, Crilly, Grant, MacGoan and Lismore were extremely clever in making and accepting opportunities.
Antrim team:
Dessy O'Neill (St. Gall's), R. Elliott (Ballycastle), John Butler (Mitchel's), G McIlhatton (Mitchel's), E. Rogan (Rossa's), Pat Morgan (St. John's), D. Donnelly (Ballycastle), Seamus Gallagher (St. John's), G. Mulvenna (Glenarm), G. Walsh (Rossa's), Paul Crilly (Mitchel's), Jn. Stewart (St. John's), T. Kane (Mitchel's), Jn MacGowan (St. John's), T. Lismore (O'Connell's)
Tipp. Minors' Big Score Against Antrim
Irish News, 15 August 1949
Tipperary 9-7 Antrim 0-2
Seldom has an Antrim hurling team played so well with such poor reward as the Antrim boys in the All-Ireland Minor Hurling semi-final at Croke Park yesterday.
Losing four goals in the opening minutes they had Tipperary on the defensive for almost twenty minutes of the first half yet the half-time score read 4-2 to 0-1 in Tipperary's favour.
In aerial hurling and first-time striking Antrim were at least the equal of the opposition. Where they failed was in incisiveness and decisiveness in all sectors.
In a gallant dead-on tackle they would beat the champions but having won thus far they failed in the second initiative.
Having thwarted the opposition the Antrim lads should have been in advance with the second move. Unfortunately through lack of experience, they allowed the defeated Tipperary man to recover, instead of beating him to the second punch, as their success in the winning tackle warranted.
Due to the Antrim team's lack of thinking a second or more in advance, the Tipperary boys were quicker to recover, and though gamely covered by the Antrim lads, who should have been in possession for a lengthy clearance, they assumed the initiative and placed an unmarked colleague for a score.
Gallant Fight
Spectators – some 50,000 – enjoyed the game, because, though going farther and farther behind, the Antrim boys still made a gallant fight and forced Tipperary to fight for every score.
Dessy O'Neill staved off many vigorous Tipperary gaoling assaults, and could not be blamed for the high goals against average. The backs battled with supreme pluck, with G. McElhatton the gamest of the game and clever in close quarter work, but weak in clearances.
Eddie Rogan was best of the half-backs – a weak division. Seamus Gallagher and Gerry Mulvenna more than held their own with the Tipperary centrefields, but were slow in retrieving when baulked.
Paul Crilly was smartest of the half-forwards, the best attaching line, and T. Lismore was cleverest of the full forwards, who were out-weighted and out manoeuvred by a robust and decisive Tipperary back line.
Paul Crilly (a lovely individual effort) and S. Gallagher scored the Antrim points.
Antrim team:
Des O'Neill; R. Elliott, J. Butler, G. McElhatton; E. Rogan, P. Morgan, D. Donnelly; J. Gallagher, G. Mulvenna; J. McGivern, P. Crilly, T. Grant, J. Kane, J. McGowan, T. Lismore.
---
All-Ireland Senior Hurling Championship
Antrim play Cork at Croke Park, next Sunday (25 July 2010), in one of two quarter-finals in this year's All-Ireland Senior Hurling Championship. Throw-in is at 2pm. Best of luck to the Saffrons.