Last Updated on 11 July 2010 by gerry
I am writing this on the morning of World Cup Final day 2010. I better get a move on as I have remembered just 4 World Cups so far: 1978, 1982, 1986 and 1990; there are another 4 to write about.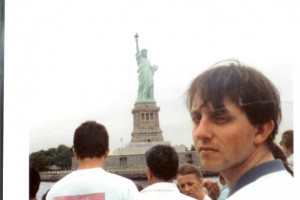 This will be a longer article than the rest, because USA '94 remains the only World Cup I actually travelled to in person. The Republic of Ireland was the only country to qualify from "these islands" in this World Cup and I meticulously planned a 3-week itinerary that would place me, my girlfriend and her sister in New York / New Jersey, Boston, Dallas and San Francisco at times that might coincide with Ireland's progress through the tournament.
To get us in the mood, though, we travelled to Dublin to watch Ireland's first match against Italy in a Northside pub, which was our friend's local. We were keen to enjoy the full cultural experience of this historic moment as opposed to watered-down, looking over your shoulder version available north of the border.
Unrestrained celebration
Traditionally the group stages of a World Cup can be a cagey, nervous and lack-lustre affair, but for Ireland on this occasion the World Cup exploded after about 10 minutes with Ray Houghton's inspired speculative strike over the head of the Italian goalkeeper. It was a fantastic moment of euphoria and then an hour and half of mounting excitement as we watched the boys in green solidly defend their lead right up to the final whistle. Unrestrained celebration poured out of the pubs of Ireland. Horns blaring with flags flying and bodies hanging out windows through the streets of Dublin: these are the scenes I'm told I experienced as we walked across the city to where we were staying. Unfortunately unrestrained celebration sometimes makes your memories somewhat unrecoverable. In truth, after that great start, Ireland's journey for the remainder of the tournament was gently downhill from there.
By the time we arrived at JFK airport, Ireland had lost their second group game to Mexico (2-1) and I had obtained an extortionately priced ticket for the decisive final group game against Norway in the Giants Stadium, East Rutherford, NJ. In most of the locations on our itinerary we were really lucky to have friends or relatives to stop over with. In New Jersey, we were really lucky as we had a bed for a few nights at a friend's house in Rutherford.
Group of death
Going into the game against Norway, I seem to recall we knew that a draw would secure qualification for Ireland whereas Norway needed to win. So for my one and only time watching Ireland at the World Cup I was privileged to witness a glorious 0-0, eh, victory, which put Ireland through in second place. To this day, that group at USA '94 remains the only one in World Cup history to finish with all the teams on equal points. Italy, the eventual finalists, actually qualified as one of the best third-placed teams. This outcome sent Ireland to the heat of Orlando and Italy to our next destination, Boston.
From Boston to Dallas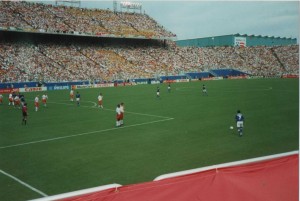 In Boston, we stayed with a fella called Denis, who I had become acquainted with through my interest in online genealogy. Denis put us up in a tent in his garden and kindly showed us around the Massachusetts city. We watched on television as Ireland made their exit from the tournament and prepared to head west into "middle America". Our flight to Dallas would arrive just hours before the kickoff of the quarter-final between Brazil and Ireland's nemesis, the Netherlands. When we landed in Dallas, I hired a car, dropped the ladies off at a suitable hostelry and headed to the stadium. With no ticket, it was unlikely that I would get into the match, but it was worth a try. It turns out that ticket-touting (or scalping as they call it in the States) is legal in Texas, so as I arrived at the stadium with minutes to spare, I was most pleasantly surprised to be offered a ticket at less than face value. Happy days and what a match. Brazil 3 – 2 Netherlands.
Dude, where's my car?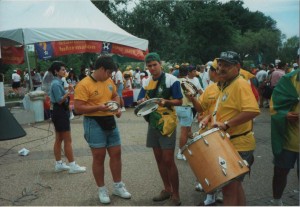 I was busy soaking up the fantastic post-match atmosphere, mingling with fans from all over the world, when it suddenly dawned on me that I had absolutely no idea where I had parked the car as I rushed to the stadium desperately seeking a ticket. So I wandered the streets surrounding the stadium and the crowds slowly dispersed and darkness began to encroach. I'll never forget the first cop I approached turned to me and said: "Are you Irish? You know Ireland's problem? You have a Donegal man for a goalkeeper!" It turns out he was of Donegal ancestry himself and he was having a laugh. He directed me to a big field where the stewards and cops had parked their cars. I approached a cop-car there and explained my predicament. The only way I reckoned I could find my car was by retracing the route I had taken on the way in. To my eternal gratitude, this particular patient cop was willing to humour me and take me for a drive around Dallas until I found the deserted spot where I had parked my car.
From football to death row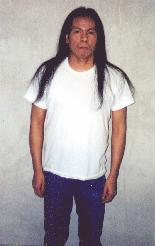 After all that excitement, following the football became less important. In fact our stop-off in Dallas wasn't just for the off-chance of seeing the quarter-final but so that we could drive up to the town of McAlester in Oklahoma where my girlfriend had a visit planned with a death row prisoner she had been writing to for a number of years as part of the Lifelines organisation. What a contrast we found between the carnival of the world cup to a town whose main employer is the Oklahoma State Penitentiary.
Driving about the States during that World Cup it was actually quite difficult to follow the tournament. The majority of the population had no interest in the soccer and usually no awareness what was taking place in their country. Of course you could rely on most of the "hyphenated-Americans" from soccer nations to be following the matches. I remember stopping off in one particular town and winding up in a Portugese bar, which was the only place showing the match I wanted to see. By the time we got to San Francisco, we were in full-blown tourist mode. Italy were in town for a semi-final so there was a great buzz around North Beach.
Time to go home
We flew back to the East Coast just before the final and spent World Cup Final day 16 years ago propping up the bar in the Plank Road Inn in Secaucus, New Jersey, a stone's throw from where it all began at Giants Stadium. As we watched Roberto Baggio drop his head as his penalty sailed over the bar, the TV in the bar went off and we surrendered to that classic condition known as Not Wanting Our Holiday To End Syndrome. Oh please never ever again! Getting packed and sorted the next morning and making the 2-hour journey from Rutherford to JFK was torture.