Last Updated on 12 December 2008 by gerry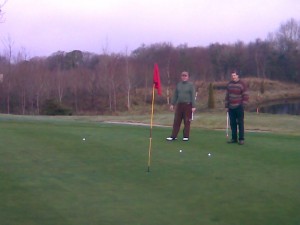 Golf is a game I enjoyed playing from a pretty early age. I actually got reasonably good at it through my teens (12 handicap). In recent years I have returned to the game only to find I'm now pretty crap at it (20 handicap).
Nevertheless if at all possible I like to play a round of golf every week, even through the winter.  I'm really inconsistent, so the usual story is – I never seem to put a decent score together, but will shine at a couple of holes or on a particularly bad day, I'll have to satisfy myself with savouring just one or two good iron shots or a long putt or a nice chip.
Anyway we had a pleasant round this morning at East Clare Golf Club in the foggy air and soggy underfoot conditions and true to form I was worst of the three. The highlight of our game came at the 10th hole, where you have to hit your tee-shot over one lake and your approach to the green over another lake.  All three of us not only successfully avoided both bodies of water but after two shots were no more than 10 feet from the hole. You'd think one of us would have sunk a putt for birdie – but no. At least we all came away with pars.